Gernot Huber's Gary Fisher Sphinx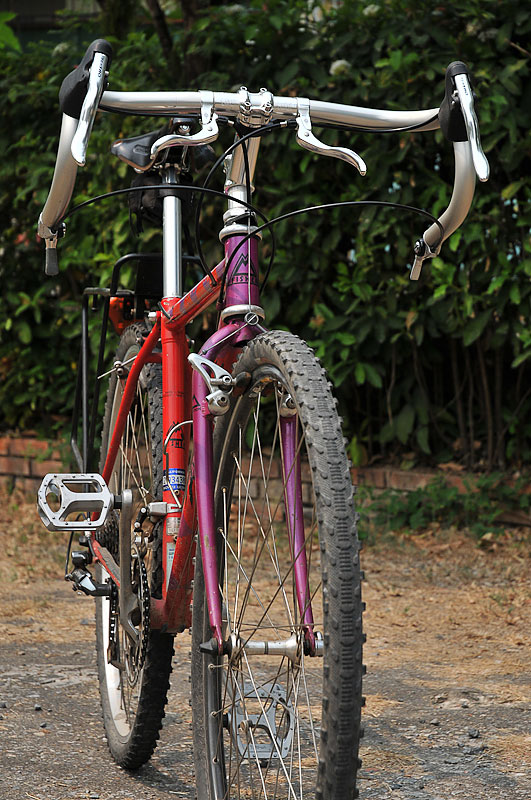 Current Classics Gallery #797
Now, here is a Gary Fisher bicycle model that I'd never heard of before. According to his entry, this bike was from 1990, which is kind of the "awkward" period in the history of that brand. During that time, Gary Fisher Mountain Bikes was sold to Anlen (Taiwan) in 1991, distribution reworked with assistance from Howie Cohen through 1992, before finally becoming owned by Trek in 1993.
Some of the designs from that era, like the
RS-1
were definitely out in front of the existing technology. Other's, the like the
e-stay Montare
are better consigned to the slag heap (though the idea of kicking the rider back a bit came back on the
Genesis Geometry
models - which I always liked the ride of.)
Whatever else you might think about Gary, the man loves to ride, and I've been lucky to share a few interesting and thought-provoking conversations with him now and again. The fact that two of those were sheer moments of serendipitous on-the-road connections gives credibility to the fact that he's out there, riding more than most, and thinking about what goes into bicycle design.
The Sphinx really fascinates me. It reminds me of the Bruce Gordon Monster Cross frames - good clearance 700C (622) bicycles ready to ramble anywhere. Gary certainly has returned to embrace the idea of "29er" (622) mtb's. It also has a fairly compact frame design, something I generally attribute to
Ibis
bicycles.
Now, it does have some, uh, idiosyncrasies - most notably the "evolution" series headset (1 1/4") and bottom bracket (88 mm) are reasonably incompatible with anything being made, and the seatpost is 28.6 (shim-able, of course).
But, I have to agree with Gernot's assessment of this as a unique and overlooked design.
#745 - Matthew Dearing's Schwinn Paramount
#746 - Jon Grinder's Bridgestone XO-2
#747 - Gernot Huber's Gary Fisher Sphinx
-