The
Working Bikes Gallery
was actually started most recently. It began when I snapped a quick image of a c
ycletruck delivery bike up in Oregon
, which got me thinking about this mostly invisible segment of the bicycle world. It's easy to over-glamorize these machines, perhaps. But, I think it's better to acknowledge how well suited the basic design of a bicycle is for these purposes.
Even though it's easy to get transfixed by low forward cargo bikes, or specialty haulers, the fact is that a basic, diamond frame bicycle can be an incredible tool. If you have only perused the
Current Classics
,
Singlespeed
or
Cyclocross
galleries, take a while to see the diversity of design and use that can be found in the
Working Bikes Gallery
.
Jason's Schwinn Heavy-Duti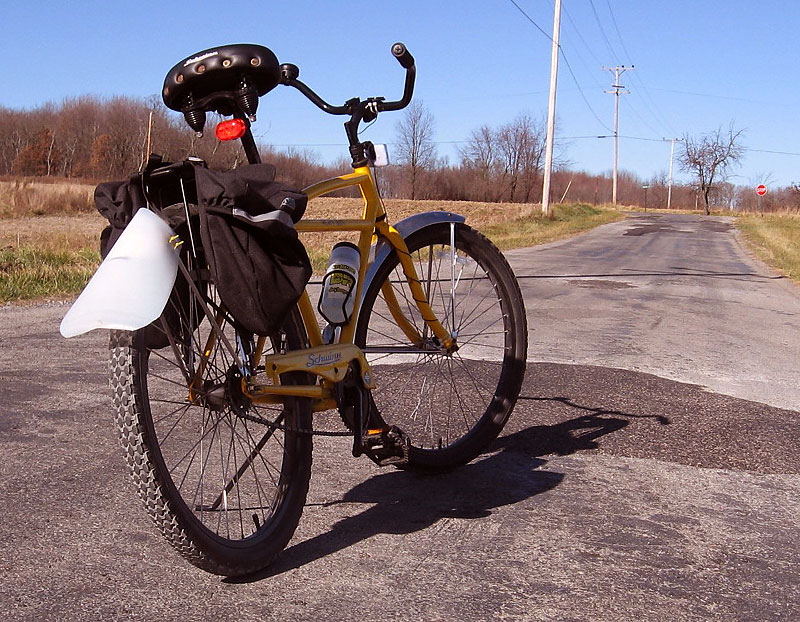 Across various airports, ridiculously large warehouses and assembly plants, you can reliably find bikes like these. They are the mine mules of our time; used interchangeably to get somewhere, get something done, and not have to fuss about it. They are load-carrying beasts, ready to roll with little preamble.
What inspires me about this bike is that it seems to have made a break for the daylight and kept running. Now it gets to roll around on the roads, breath in the fresh air and enjoy the elements. Because of its tough past, there's little now that can faze it.
Roll on, Heavy-Duti!