Over the past couple years, I've read with interest the development of the
Velib
system in Paris (
more
), and the attempts to implement and refine such a system in the US. (
more
,
DC program snags
) This self-service transportation network system should allow a quick and seamless use of the bicycle in urban areas. Obviously, there are maintenance and logistical issues to overcome, as well as theft. But, it's hard to move forward without trying some things.
I was going to say "new things", but as this bicycle will tend to support, maybe nothing is new under the sun. As fast as the old Chicago-built Schwinn
Varsity models could be electro-forged
, I reckon that this model from Legnano could get bent and formed pretty quickly as well. The Varsity may have beaten it with sheer industrial momentum, but I don't think I've ever seen a bicycle like this:
David Beattie's Legnano Rental Bicycle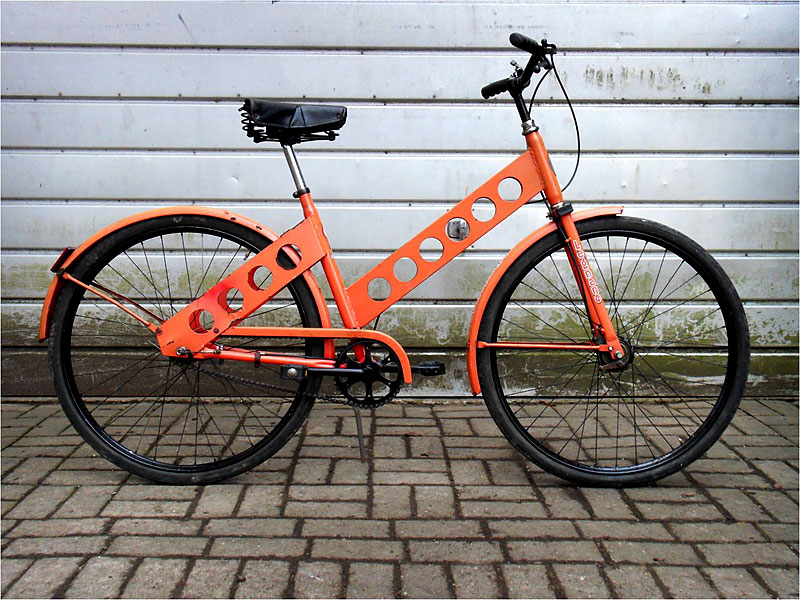 Working Bicycle Gallery #129
Now, there's a bicycle which was designed to be ridden hard and put away wet. David doesn't mention in his writeup which components have been upgraded or replaced. Given the condition, I would tend to suspect the cranks and wheels are newer. (Though the hub appears to be a Sturmey-Archer, and there's certainly no derailleur tab.) He does refer to it as
"very original"
, so maybe it's all original spec.
I love the use of the perforated metal stock for the seatstay and downtube. The simplicity of the fork legs is both elegant and frightening - looks like they just hammered the ends flat to create tips.
It does lose points for lack of a rack, but the fact that there's only a mild bend in on the rear fender stays suggests that they were built to last.
Working Bicycle Gallery Updates -
#127 - Lane Kagay's CETMA HALFrack
#128 - Lane Kagay's CETMA Cargo Bikes (and Accessories)
#129 - David Beattie's Legnano Rental Bicycle