Four Of A Kind - Well, four Raleighs out of seven new entries to the Current Classics Gallery - I guess that would make a good poker hand. It's always funny how these things work out sometimes. But, the interesting thing is what a variety of models have rolled out of Nottingham. (And if you want more background info on Raleigh - AASHTA -
http://www.sheldonbrown.com/retroraleighs/history.html
)
But, even with all of these Raleighs, it's hard to pass up showcasing a classic Bridgestone MB.
Jim Roselle's Bridgestone MB-5
I've got a soft spot for the MB series - it was the first Bridgestone which ever rolled through my life (a purple MB-3, if you are keeping tracking) and it is still a bicycle model which has a perfect mix of style and performance.
The late 80's/early 90's mtbs are certainly some of the best riding 26" trail bikes. Responsive and stable, quick and lively. I'm lucky enough to have an MB-1, and everytime I hit the trails on mine, it reminds me how well realized this series of mountain bikes was.
Jim's photo of his really captures the spirit of far horizons and wonderful trails.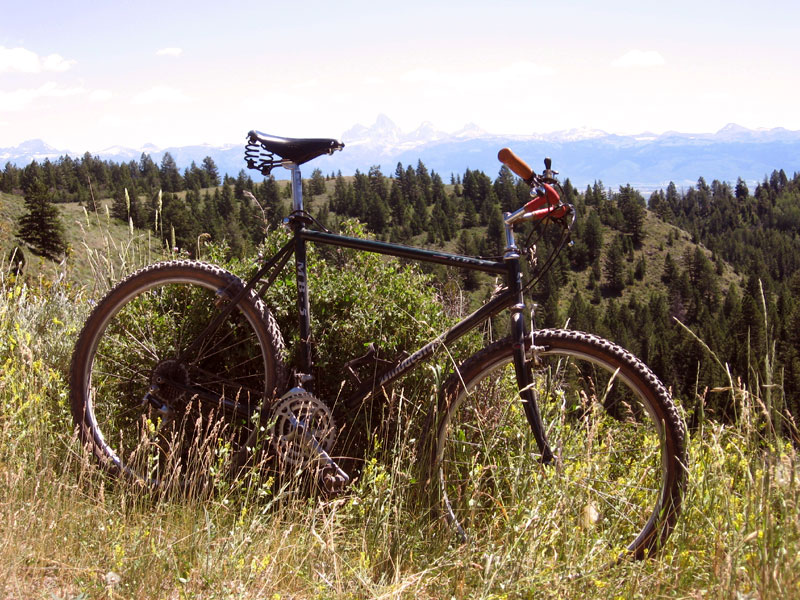 New Entries to the Current Classics Gallery -

#833 - Michael Hensley's Raleigh International
#834 - Jim Roselle's Bridgestone MB-5
#835 - Branko's Raleigh Grand Prix
#836 - Michael Baczkowski's Raleigh Touring
#837 - Dominique Fernandes' Centurion Accordo RS
#838 - John Bunnell's Raleigh Pioneer Trail 2000