"New" in quotes because I'm sure the folks who sent in these fine images have all but given up hope that their submissions would ever see the light of day. To further mock my efforts, the five singlespeed bicycles which got posted today precisely equals the total number of singlespeeds which got added to the
Gallery
in 2011. But, hey, as I said, it's time to just keep taking small bites and pedaling...
#331 - Cat Daddy's Specialized Hardrock
This one catches my attention for three reasons -
First, there's something wonderful to my eye about a large-tired rigid fork mountain bike from the early 90's. In the days before suspension became prevalent, the design teams focused on getting the best out of the a simple system. The frame tubes were not overwhelmingly huge or formed and the lines remain clean and strong. The Hardrock wasn't as fancy as it's sibling the Stumpjumper, but a lot of the differences at this point had to do with stem size/angle offerings and componentry - the Hardrock was a tremendous value.
Second, it's one of the types of bicycles which I actually lament not having nabbed when I worked in the industry (actually, my specifically egregious failure to snap up an amazing value was not getting one of the last steel Stumpjumpers - we had bought the last of the runs of these maroon, rigid-forked models which IIRC was destined for the European market. But, I digress). When the quality steel mtb's started to dwindle, most of us just didn't notice - overcome by lust for titanium, exotic aluminums and the just-appearring carbon fiber.
Third, Bill managed to get his neighbor's rescue dog into the final photo. Now, I ask you, how can you not feature an entry which does that?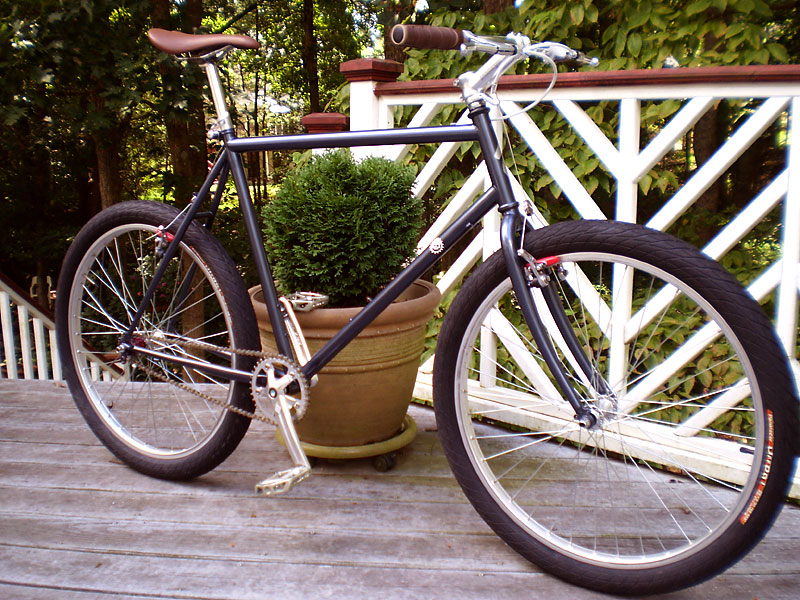 New Entries to the Current Classics Gallery -

#330 - Shawn Mullenix's Schwinn Continental
#331 - Bill/Cat Daddy's Specialized Hardrock
#332 - Kenny Sargent's KHS Urban Soul
#333 - Laurent Savard's Cambio Rino
#334 - Brad Ingermann's Schwinn World Sport