Got a little behind last night and this morning, so if this is a little brisk and choppy, I apologize in advance.
At the top of this blog, I've added in a random slide show from my Flickr sets - planning on periodically choosing one from my feed. Actually, had just done this to show another blogger how it works, but upon reflection, felt it was a nice addition.
Today, Karl's Kogswell P58 is the lone addition to the
Current Classic Gallery
-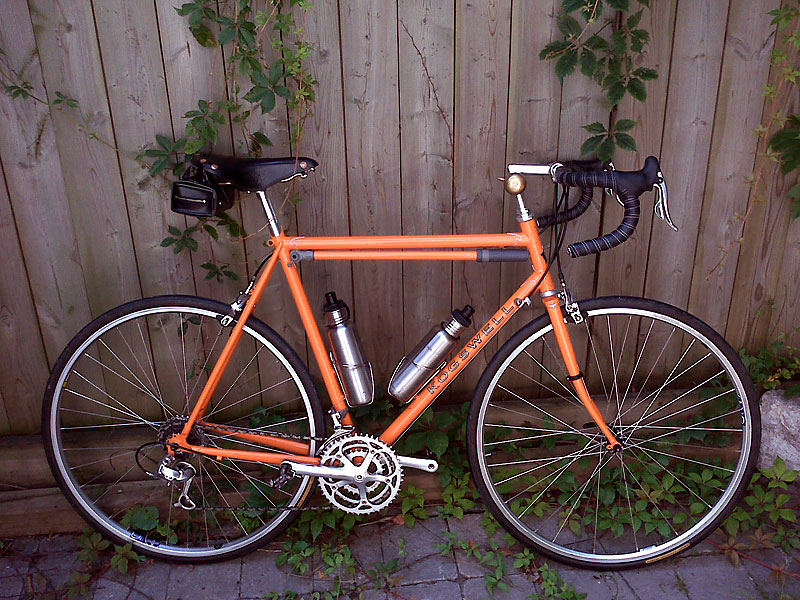 Current Classics Gallery #779
Kogswells have always been interesting bicycles to me. Back when this Gallery was gaining momentum, they populated the entries and much of the conversation on the iBob list. To my perspective, they were one of the first steel, lugged production frames to gain visibility after Rivendell. As a value proposition to the Rivendell, it let many riders get contemporary lugged steel within their monetary constraints.
Kogswell probably helped the connection between Rivendell and Maxway, who was the Taiwan-based company which built the Kogs. This led to the
Bleriot
, and now the current
Sam Hillborne, Betty Foy/Yves Gomez
and upcoming
Hunqapillar
models.
The P/R (Porteur/Randonneur) in 650B really seemed to put Kogswell on the map, staking out an area which no production bicycle seemed to exist. The idea of swappable forks, different fork rake/trail and front-end-load specific geometry still spurs lots of debate, and really revved up participation in the
Kogswell Owners Group
. (Ride buddy JimG also maintains
an interesting and informative page
of Kogswell info, and puts some serious miles on his 700C P/R)
But, it's these earlier bikes -
the D, G and P series
- which got them going.
#779 - Karl Littner's Kogswell P58