To be quite honest, the
Cyclocross Gallery
really doesn't get a whole lotta love. Which is humorous to me, as way back in dialup days, the whole
Cyclofiend.com
website, really came into being around things
cyclocrossy
(cyclocross-ish? cyclocross-esque?... anyway...).
It does point out that however large the cult/tribe/band grows, no matter how many cheering viking-throng photos filter out of Portland, SF or Seattle, it's still a subset of bicycling at large, and an off-seasony, oddish one at that.
Which is fine. Wouldn't have it any other way.
But, it does tend to impact the number of images which folks supply of dedicated CX bikes. Plus there's probably less opportunity, as most cross bikes live short, brutish lives, aging many years in each season, if actually raced.
That does make the cross bike images a bit more special, and when you get a chance to enjoy something as unique as
Paul Germain's fillet-brazed Bontrager Cross bike
, it is indeed a treat.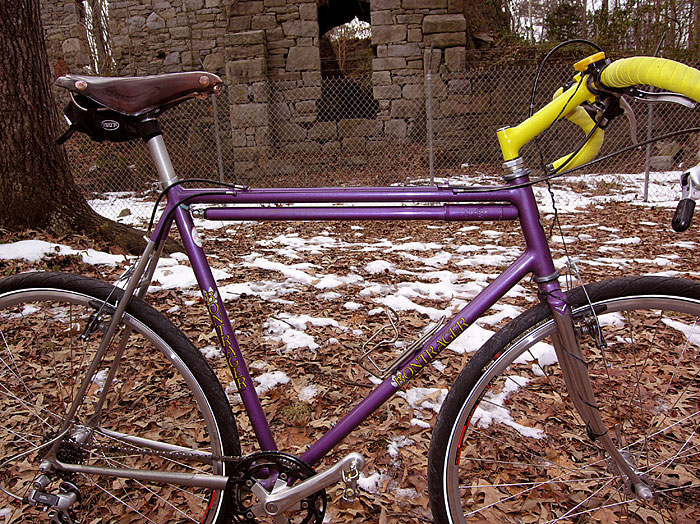 Cyclofiend Cross Bike Gallery #57
As Paul points out in the description, a fillet-brazed Bontrager is reasonably rare. (And you know that the Bontrager Cross models are not all that common.) I've never seen one with the nickel treatment on the stays and fork, and the addition of the Steve Potts stem just ties this bike off very nicely.
Three more additions over in the Cross Bike Gallery as well:
Paul Germain's Bontrager Fillet-Brazed Cross
Daniel Cuellar's Scattante XRC Cross
Michael Gibian's Haro Mary XC
Andrew VonSeggen's Salsa A La Carte
- Enjoy!