Everything "old" becomes new again, I reckon. It's interesting to consider what catches my attention in bicycle design these days. Longer fenders, clearance for bigger tires, tightly fitting and artfully designed racks (Bruce Gordon seems to to manage
both
), understated-yet-evocative paint....
The arc to this point stems from Interbike in '97 or so, when GW and I were recovering from walking the aisles and he said something along the lines of "I am so freakin' tired of oversized tubes and toothpaste welds..."
I didn't quite get what he meant - it probably occurred to me that aluminum bikes were boring to him. Titanium was sexy back then, and the good welder laid down a bead that looked like tiny dimes stacked on one another.
Luckily, he had also thrown an early Rivendell Reader at me one day and said, "You need to check this out..." and he'd made me follow him to the outer edges of the booths to find the Jack Taylor frames. Quiet, lugged and classic, they made little splash at the show where full-suspension mountain bikes were still pretty exotic.
So now, I wonder what impression it would have made on me if this bicycle had been sitting on the forward corner of a booth.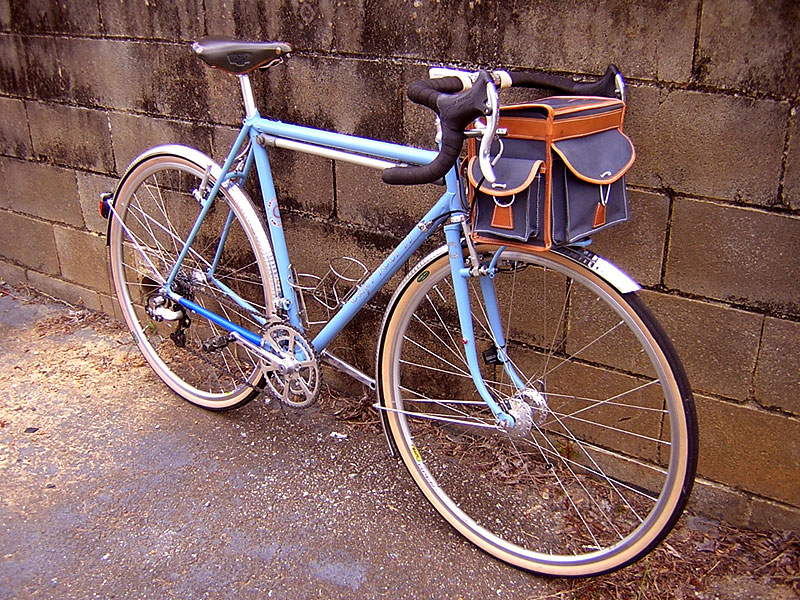 Current Classics Gallery #682
I like to think that something like this
Custom Capricorn
would have caught my eye back then - though it might have just been the oddity of a large forward-mounted Gilles Berthoud bag. The "pencil" blue would have also been pretty non-standard at the time (still is, mind you, but now it has a historical context for me...).
Nick's Capricorn
(posted to the
Current Classcs Gallery
in 12/09) is one of those bicycles that it's almost impossible to imagine improving. It has all the things you'd want or need, but nothing more. There are some unique preferences - the
Kelly Bike
"Take Offs" for example - which make the bike entirely his.
Whether you were doing serious randonneuring or just wanted to be able to leave the house at dawn for an all-day ride, it would be a fine choice.