It's easy to miss the details on a well rendered, yet understated bicycle. These days, with the bulk of the rides you see on the roads looking all racy with screaming logos and swoopy stripes, subtle details tend to fly under the radar. Once you learn to tune out the noise though, certain details catch your attention. When I was processing the images for the
Current Classics Gallery
, this one just made me pause: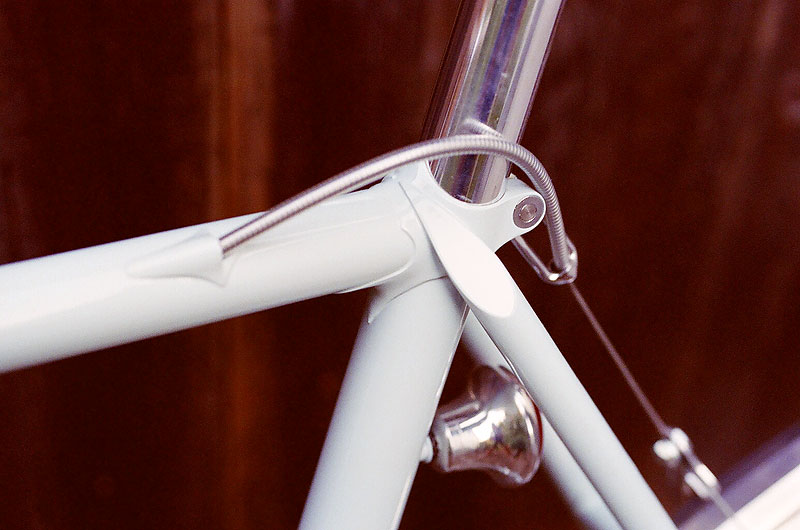 Current Classics Gallery #771
For such a discrete and small part of a bicycle frame, there's a lot going on here - the internal cable routing not being pushed through a dimple, but running into a tapered housing; the thinned and elegant arc of the seat lug; the way the seat stays curve up and almost join; the way the seat post binder bolt fits flush when tightened.
There's nothing particularly "showy" about that work - but it pulls things together with a certain confidence of style, patience in approach and just enough flair that you know someone thought pretty deeply about it before even beginning.
The kind of bit that you just find yourself considering years after you've owned the bicycle. And smiling about.
Today's updates to the Current Classic Gallery:
#771 - Bob Rogen's Toei 650B Randonneur
#772 - Michael Kullman's Schwinn Voyager
#773 - Tim Merrell's Peugeot PH1 OLE
#774 - Leon Lokkart's Gazelle Champion Mondial
Other Toei bicycles in the Current Classics Gallery
Sponsored Link: