Rough and ready setups really tend to catch my fancy. Don't be me wrong, I enjoy finely detailed, well crafted cycling art. I can spend way too long looking at the delicate thinning of a Brian Baylis' finished lug at a bicycle show.
But when you see a bike that gets used a lot, and can tell in a myriad of ways how it's been adapted to the specific use of its owner, that resonates with me.
Doug in Seattle had submitted this Jamis Aurora -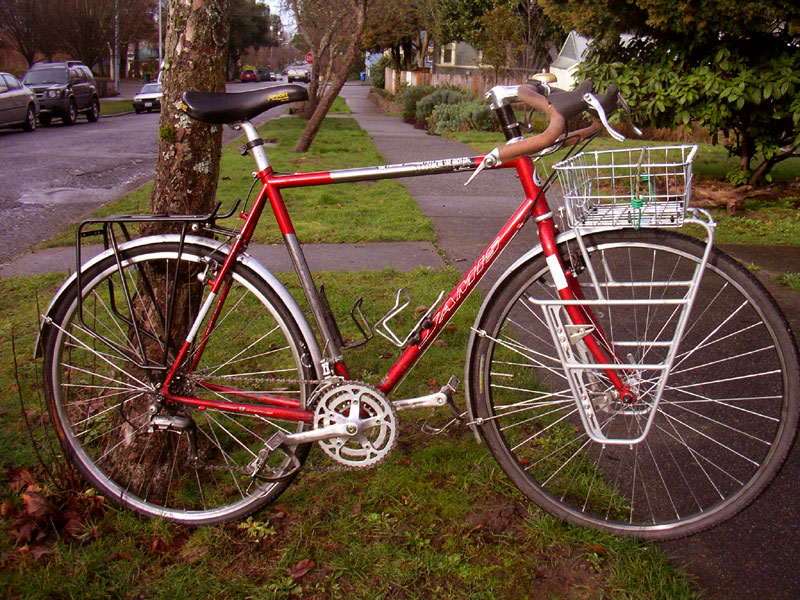 Current Classics Gallery #778
It's not a terribly expensive frameset, and it lacks the lugwork that so many bicycles are using. But, I really appreciate the build. The basket set up on the front rack, the simple, proven components in the drivetrain, the mis-matched water bottle cages. I also really like the very real image of his drivetrain.
As he says in
his description
, it's a bike that will let him go where ever he wishes, whenever he wants.
And wasn't that the whole promise of the bicycle to begin with?
Today's additions to the Current Classics Gallery:
#775 - Robert Starkey's Schwinn Tempo
#776 - Cook Watergood's Jack Taylor Super Clubman
#777 - Frank Kanauz's Italian Masi
#778 - Doug in Seattle's Jamis Aurora "Redbear" Camping Bike