It seems appropriate to reinvigorate the updates with bicycles that share a simple design and construction. Until we decide to take the big step back to the
Draisine
, the singlespeed is still about as simple as you can go. And as anyone who tries it may (well...sometimes begrudgingly) admit, simple is often times good.
I know that a single drive sprocket keeps calling me back - even when I might curse its inflexibility as the pitch of the climbs increase. Tonight I scooted out after a day too long rooted in front of the computer, and as the solid, windless heat lay upon the earth, the fixed drivetrain of my ride made no sound. A tangent onto some narrow trails supplied the perfect challenge to momentum and balance. Single geared bikes rock.
And speaking of rocking, long time contributor to the Galleries, Beth H. has gotten a good chomp from the singlespeed bug. Her first rig of recent years was a singleated mtb which somewhere along the line I seem to have dubbed "Stompy". After shaking that down on the Portland short track and cyclocross scene, she has ended up with a more purpose built model, a Redline Monocog with snazzy bits of pink for accent. Cool bike!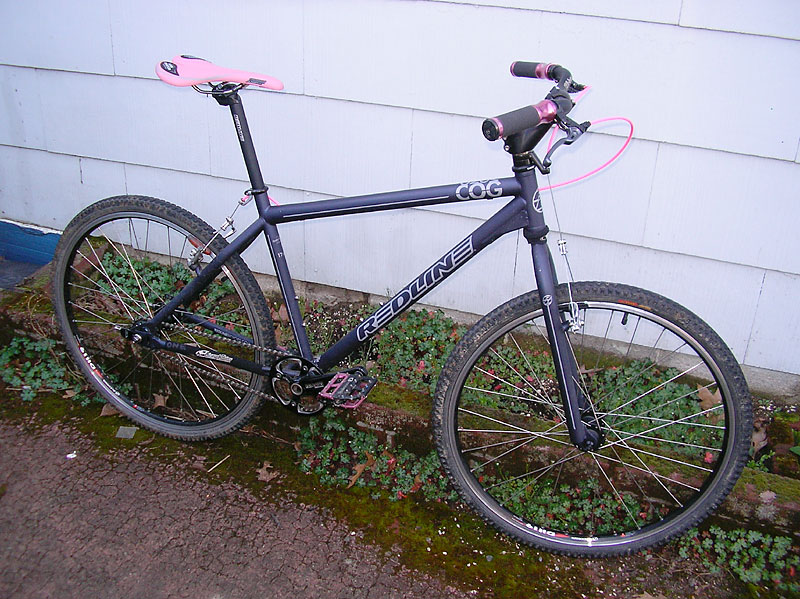 In addition to wrenching at
CityBikes
up in Portland, she keeps an interesting blog -
bikelovejones
Updates to the Singlespeed Bicycle Gallery
#306 - idotel's Raleigh Grand Prix
#307 - Gina's "Milk Runner" Nishiki Custom Sport Mixte
#308 - B. Saul's Motobecane Touring
#309 - Beth Hamon's "Stompy 2.0" Redline Monocog