It's much safer to stay out of the post-Thanksgiving retail scrum and enjoy some great looking bicycles. Between gorgeous images of pre-fall mountain bike vistas and the details of resurrections and renovations which are contained within this batch, my hope is that you'll find some enjoyment and respite from the pending holiday craziness.
Eric Bagdonas' Miyata Ninety Mixte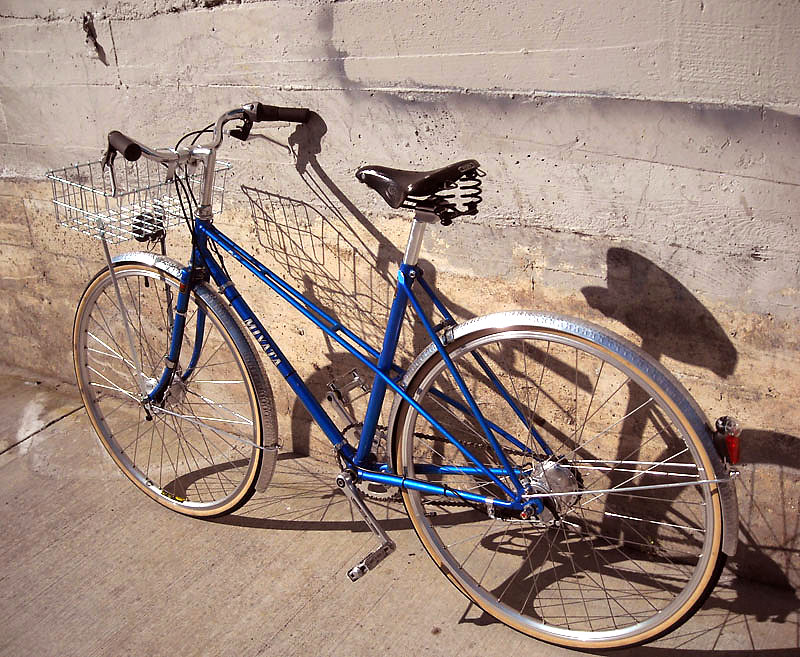 Mixtes seem to be enjoying a bit of quiet resurgence. Appearing in more advertisements and articles to be sure, but it does seem as though I'm seeing them more frequently on my commute and locked up around town as they quietly go about their day being useful and stylish.
Starting with a well-rendered Miyata mixte frame, Eric has created a sure-footed, weather-resistant bicycle for real world use on the streets of Portland, OR. It's funny to consider how many features I would have poo-poo-ed a decade or so ago - basket, fenders, IGH (Internally Geared Hubset)... indeed, the very notion of a "drop-bar" bicycle itself. But, now, there it is, with just enough glimmer and glint from the silver fenders to catch your attention as it goes about its way each day.
New Entries to the Current Classics Gallery -
#817 - Bob Hague's Motobecane Grant Touring
#818 - Justin Becker's Rodriguez Tandem
#819 - Kevin Mulcahy's ALAN Guerciotti CX/Road
#820 - Tris' Fort Touring Audax
#821 - Michael Kullman's Surly Karate Monkey
#822 - Don Genovese's Rivendell LongLow
#823 - Nick Roth's Raleigh Commuter
#824 - Mauricio Orantes' Trek 1500
#825 - Eric Bagdonas' Miyata Ninety Mixte