Everyone is supposed to be tying off work quickly this week and gathering for contemplation around an unfortunate bird. Which means you're probably stuck in some airport, listlessly overhearing folks complain about the TSA intimate frisking they just endured. Hopefully, the addition of eight new entries to the Singlespeed Gallery will help you divert your attention to something fun and healthy...
It seems to be getting more difficult each time to choose one entry to highlight, mostly because each and every bicycle has something unique and intriguing about it. This selection of single speed bicycles is particularly diverse - including purpose built commuters, repurposed mountain bikes, and stripped down road machines. The wonderful thing is that these bicycles are all getting enjoyed and used now.
In the end, the nod went to a fine example of early mtb history...
Jeromy Hewitt's Fat Chance Buck Shaver
As I've mentioned before, it was from the writings of Mike Ferrintino back in the inky newsprint pages of California Bicyclist that first made me aware of single speed cycling. At that time, I recall thinking "why would you want to get rid of the gears?"
But, somehow as I read through the article, in which he talked about the weight which would be jettisoned and the simplicity which would be attained, there was an attractive kernel of resonance. At that time, even seeing a singlespeed was a rare thing.
Since that time, I've always thought of mountain bikes first when someone spoke about singlespeeds. On the roads with a single geared setup, you do sometimes have to accept the multi-geared folk whisking past you now and again, when you are spinning along at just under the butt-bumping cadence. But, on the trails, there's that sublime flow and near-silence, the simplicity of knowing that speed comes only from effort, and momentum must be maintained.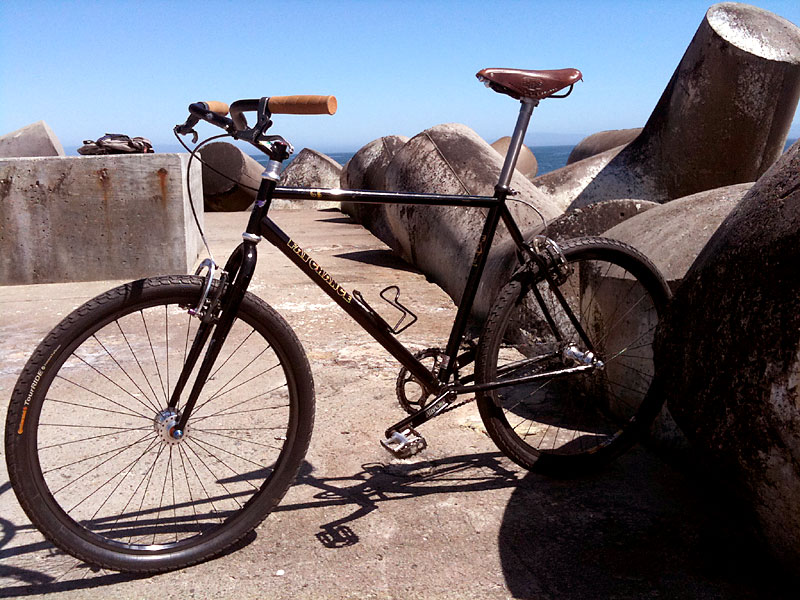 The Buck Shaver came from the east coast, and was a move to bring out a less expensive offering from the workshop of Chris Chance and company. At the time, hard to remember now, there was the talk of "east coast geometry" - a tighter wheelbase and sometimes higher bottom bracket which gave those relatively unknown bicycles kind of a bad rap out where the sun set. We liked our 44" wheelbases and slack-angled frames.
Of course, looking at that bicycle now, none of that comes to mind. The Fat looks like a lean and ready trails machine. The TIG-welded steel and jaunty straight fork promises nothing other than a ready companion to help you get lost on the trails for hours.
Additions to the Singlespeed Gallery:
#317 - Allan James' Schwinn World Traveler
#318 - Vince Santiago's No Name Singlespeed
#319 - Guiseppe Rosalia's Assiolo
#320 - Lee Chae's Rivendell Quickbeam
#321 - Jeromy Hewitt's Fat Chance Buck Shaver
#322 - Mark Elam's Schwinn Moab
#323 - Gilles Landry's Raleigh
#324 - Joe's Univega Viva Sport
Also, there were some Updates to these previous entries:
CC #656 - Don Genovese's Miyata 1000 Touring
CC #654 - Randy Pugh's Trek 1500